Profile (CV) for Maria Appelqvist, Ph.D., CPCC, ORSC & PCC
Maria Appelqvist is a Certified Co-Active Coach, and trained with among others CTI – The Coaches Training Institute. She has the experience of more than 1,000 coaching hours in one-on-one sessions and due to her training in ORSC – Organisations and Relationships System Coaching extensive skills when it comes to coaching groups, relationships and organizations. She is an enthusiastic teacher and speaker that inspires. As a professional coach she has developed her own unique and engaging coaching style, taking her clients into their personal leadership and beyond personal achievement. Her passion is to work with fearless and open-minded clients who are motivated to create extraordinary change and development in their professional life and career.
Experience
Maria has been in the area of professional coaching since 2004. She has been working with governmental organizations, designing and delivering tailored training sessions and coaching programs.  Maria believes in walking the talk and leading by example in her every day life, as such she works on several local project that has the ambition to create social change from a grass root level. She is the author of a book "You and your Jante: A travel guide into the land of Jante" (published Sept 2009 in Sweden) that describes the major saboteur voice of all human beings and how that voice is challenged when faced in the meeting with a coach. Her mission to live beyond the edge is your guarantee that you work with a coach that has the capacity to recognize, acknowledge and hold you to your full potential. Currently she is setting up an extensive online business launching her Coaching Program entitled 6 Steps to Your Sex & Success.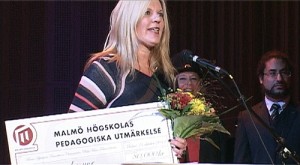 Maria's background as a doctor in Sociology consisted of research and teaching within the interdisciplinary field of International Migration and Ethnic Relations. Currently she has a position with Urban Studies/Malmoe University as a lecturer in Leadership & Organization. The picture is from 2011 when she won the pedagogical prize voted by her students. She has an extensive experience of mentoring individuals from all over the world and highly skilled in issues concerning conflict resolutions and cross-cultural communication. She speaks Swedish and English. For the past 20 years she has been working with teaching and research within the area of migration, integration, reception policies and organizational change.
Maria's Training & Experience:
2013 April         Leap Live with Kendall SummerHawk, Phoenix
2013 April         69 Shades of Hedonism with Dr. Dain Heer/Access Consciousness
2013 March-June
Financial Sacred Archetype Certification Coaching Program with KendallSummerHawk
2013 March      Access Consciousness: Access Bars
2013 March      Matrix Energetics: Level 1-2, San Fransisco
2010 – 2011      Advanced Relationship Coaching with OneTaste, US
2011 Aug           ICF Conference Sweden
2010 June         Play two win coach with Lifeville
2010 July          Theta Healing™ Advanced Course with Theta Healing Center
2010 May          Theta Healing™ Basic Course with Theta Healing Center
2009 June         Assisting Organisational Relationsship and System Coaching – Path in Paris
2008 Feb          Audition CTI World Wide Front of the Room Leaders, in Paris
2007 – 2008     Part of leadershipteam on CTIs Co-Active Leadership  programme, in Barcelona
2007 June        Retreat within InnerMagician Series and Coach Dr Deb, in Peru
2007 June        Graduated CPCC – Certified Profesisonal Co-Active Coach
2007 March     Team Coaching Intensive and Team Diagnostic facilitator, in Copenhagen
2007 March     Graduated ORSC Organisational, relaitonsship and system coach – Intermediate, in London
2006 August    Masculintity and femininity 3rd way with Ken Mossman
2006 May         ICF European conference, in Brussels
2006 May         ORSC Foundation, in Oslo
2006 April        Graduated CTI – The Coaches Training Institute ten month Co-Active Leadership program
2006 April        The Bigger Game with Laura Whitford, in California
2005 May         Graduation CTI – Intermediate, in Malmö (2005-06 been assisting on all these courses)
2004 Dec          CTI Fundamentals