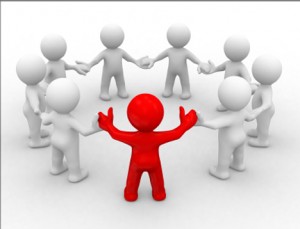 This week we are going to take a look at how conceptual skills are necessary for the process of organizational change.
One of my friends has a background as an entrepreneur and business person. At just 20 years old he achieved his first seven figure income. He went on to take his company to the stock-market and became financially free when it sold. The interesting part is that he never had an higher education – never spent the time studying theories and acquiring conceptual skills. Instead his learning was based on his personal life experience.
Importance of Conceptual Skills
I once asked him, "What was the turning point for your business that really brought about success?" He had actually never thought about the turning point. But he told me that the company came to a point where he realized that he couldn't progress by himself, so he employed someone who had just graduated from economic school. This person started to implement everything he had learned in school and took all the economical theories and conceptual skills into the business.   From that point the company started to grow to a whole new dimension.
Experience is great, we can create a lot from experience. But there will always be a point where we need theories and conceptual skills that can take us to the next level. Conceptional skills can be seen as the ability to see the organization as a whole and the capability to recognize how the different functions within the organization are interdependent. For a company to excel there is a need for conceptual skills. My friend did not have conceptual skills but he made sure that he got someone who did. That took his business to the next level.
When we look into what we can learn from change management, we can see there are various forms of change:
– revolutionary versus evolutionary
– planned versus unplanned
Revolutionary changes are aimed to change the deep structures of an organization. This type of change can be triggered by a crisis or promoted by state interventions. For instance when the EU gives funding to its member states for the purpose of creating change in social system and structures, this is an external force that's triggering organizational change. The European Social Fund can be seen as an institution with a mission to mainstream the policies of its member states into increased harmonization related to different policy areas.
Evolutionary changes can be seen as improvement projects that takes the phase of a process. It's usually the people that are the recipients of the change that are the ones that are part of the process of designing and implementing the change. A project that aims to gather the target group in a process work, can be seen as an expression of what it means to work evolutionary.
When a change is planned it's easy for a company to bring in external experts and inside staff responsible for making the planned change happen. Usually it's planned by the management and maintained by technical specialists who are committed to make it work. It follows a hierarchical design to ensure order and progress.
Unplanned change originates from unanticipated events or crisis that impacts the organization. Here internal communications become important since there is an urgency for action. In best case situations, organizations have formulated strategies and structures for how to handle the eventuality of crisis.
There are various reason why change happens and external dimensions are seen as the most important forces. This list is presented by Alvesson and Svenningson (2007):
Political
Technological
Cultural
Demographic
Economical
New knowledge
Market changes
While change might be imposed from outside, the change itself can be seen as a process that has a beginning and a clear end in mind. There is a goal to reach. The first phase is aiming preparation and planning towards convincing the people concerned that the change is needed. It is important to educate and involve the staff in order to reduce resistance.  This can be done through engaging speeches from influential people.
The second phase is assisting the change with conducting the change outline in the planning phase. The third step is to refreeze the organization in line with it's newly implemented changes. The success of a change is understood in terms how the staff will accept and understand the reasons for it. While negative attitudes of change will be viewed as if they were pushed upon the staff, an accepted and understood change is much more likely to settle as the new way.
Sources:
Alvesson, M and Svenningsson, S (2007) Organisationer, ledning och processer, Studentlitteratur AB: Lund
Dawson, P (2003) Understanding organizational change. The Contemporary Experience of People at Work, Sage: London
Jarvenpaa, S and Stoddard, D (1998) Business Process Redesign: Evolutionary Change, University of Texas: Austin
Knowles, H and Saxberg, B (1988) "Organizational leadership of planned and unplanned change: A systems approach to organizational viability", in Futures, Vol 20, Issue 3, p 252-265
Lewin, K (1951) Field theory and social science, Harper & Row: New York