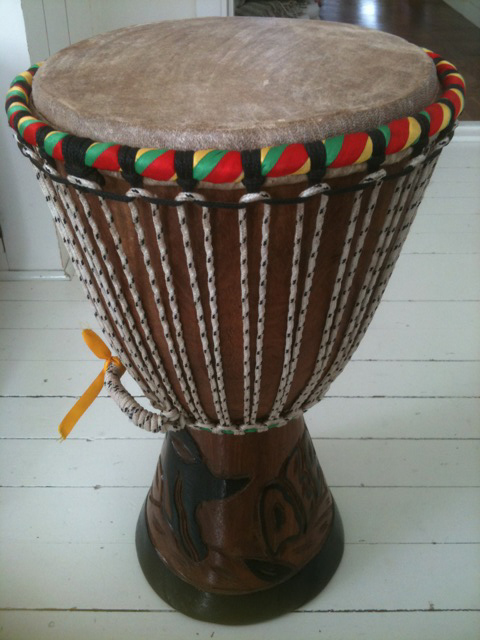 Music! I love music. I may not listen to music as often as others, like my son; but when I do play music, I really listen. Music for me represents fun, joy and light. I don't work with music on in the background. For me, this would would distract from my focus and concentration. Instead, I listen to music when I want to relax and when I want to have fun. I listen to music when I do yoga in my mornings, when I want to change my mood, and of course when I want to dance. The feeling of music and rhythm must be one of the most profound human ways of finding your soul, the root in your heart.
My First Drum
Today I got my first drum – that is a picture of it above. I've been waiting for this moment to come. It almost took nine months to get it: like a whole pregnancy. I'm currently entering a new phase in my life, to deliberately find mates to play with, mates to create with, play mates to have fun with. Drumming is something you do together, it is a team work. It is not as fun to do alone.
In my life and in the work I have done as an academic and teacher, I am used to working alone and doing things mostly by myself. I can see how my childhood as a single child in a family created the notion of "when you are alone, you are strong." I used to believe that, but I don't any longer. I know that we are more together. That we are more together in co-creation. So, my life from now on is about co-creation in various forms.
My interests for drumming started back in 2005 when I was in a leadership program with CTI. This is where I learned the power of co-creation and the power that is created in the energy of fun and happiness. This is where I learned the importance of asking for what you want. Even though it has been many years since I graduated, I am still experiencing how what I learned from this program is implemented in my every day life.
A Solid Investment
I remember that the tuition fee cost me a fortunate, but still, it's one of the ever best investments I've made in my life. I'm tremendously grateful to be in a supportive community of other powerful leaders. It was also here, during the last retreat, where I learned the turn on that is available from creating in the moment, where you create from what needs to happen instead of you trying to hold on to a structure and control. This is the same learning that comes from the flow of being in the co-creation of drumming music.
The Power of Music
One of my best friend Erika Mikaelsson is doing a documentary about the power of music. It is about the aboriginal music in Sweden. In the documentary, we can follow Jani a Samic rock singer. Just like the African drumming, connecting with the Samic or other aboriginal music, represents what it is like for us to be connected with our souls. It speaks to the soul of what it means to be a human. It is about what we all have in common as human beings.
In order to finalize this documentary, my friend needs help. Please feel the music in this preview and join me in the support or co-creation of giving birth to this project. http://www.indiegogo.com/projects/101343?i=wdgi