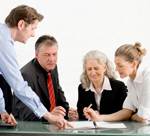 One of the people that really have inspired me in terms of organizational learning is Peter Senge.  He became known with his book the The Fifth Discipline, published in 1992. Here he lays the foundation for the notion of organizational learning.
We live in a world of rapid change. As time moves forward, everything goes faster and faster. More technologies become available to us and the global scope of interaction increases. We live in a global community that is becoming more and more complex and challenging.
How can we navigate in this changing world? How can we address contemporary problems?
Organizational Learning Basics
Organizations consists of people that come together for a common purpose. The field of organizational learning teaches ways to design organizations so they fulfill their function in a more effective way. It encourages people to reach their full potential and take the holistic approach that the world can be a much better place.
Learning is not only about creating the future you want. In contemporary societies and a highly competitive business world, it may give your organization the advantage of being on the edge.  This gives you the benefit of leading pro-actively toward the future.
Five Corners of Organizational Learning
There are five corner stones in organizational learning:
system thinking
mental models
team learning
shared visions
personal mastery
System thinking, the most profound of the disciplines, is the art of seeing the world as a whole.  It is the practice of focusing on relationships as a part of the system. It helps us understand that cause and effect do not happen linear.  Instead, it's a circular process. When you work with a system, instead of against it, you create new solutions to contemporary problems. By accepting system thinking, you accept certain terminologies and tools to be used for facilitating learning.
Mental models represents the belief systems and assumptions we hold about ourselves and how the world works.  It is the mental model that shape our way of being, our actions and how we respond.  It also affects how we interpret other people's behavior. When you practice this, you are going to question your own deepest beliefs and help others to do the same.
Team learning is the process that happens when a group of people come together and experience the feeling of synergy and productivity. It's like being in the flow. Jazz musicians know that the group is so much more than the solo musician, the same is true for teams within an organization. Team learning includes conversations based on honesty and mutual respect.
Shared vision happens when everyone in the organization understands what the organization wants to do and they genuinely are committed to that vision. The vision becomes possible when everyone is committed to making it happen because they want to, not because they have to.
Personal mastery is the art of knowing yourself.  This is when you step into your personal leadership and find your unique life purpose. It's about daring to be honest and authentic. It's also about being courageous and having the willingness to take risks.
This way of thinking lays the foundation to understand the current urge for coaching services. Organizations who wants to thrive are looking for the best way to boost organizational learning.  And many are doing this by facilitating individuals with coaching services. There is a need for leadership training and development.
There is a need for the growth of a new kind of leader.  A leader that can sustain and initiate profound change. In the end, by discussing organizational learning, we can create a society that will sustain. Leaders that can be with and manage change are leaders of tomorrow. These are the leader all organizations will need, the one who sees and acts in a holistic way as such creating sustainability and corporate value.
You can learn more about the global community that works in alignment with Organizational Learning and Peter Senge in Society for Organizational Learning.
Photo Credits: katherinegreen.com