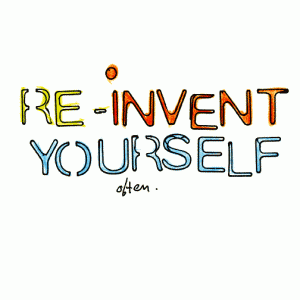 Have you ever had that feeling that you have started something new? Something that seems to be a whole different life compared to what you used to do? You know in your heart and that it is your yearning to further embrace this new something; this whole new identity of who you are and what you represent. This process is called reinventing. It's when we transform ourselves fully into something new.  Something that old friends and colleagues may not even recognize.
The Process of Reinventing
Since I've started with coaching, I've been meeting a lot of people that have been through the process of reinventing and I have followed friends that are going through the process. For me, reinventing means to dramatically change your whole life, your values and attitudes. I've been feeling it and know I am in the reinvention process myself. It's just a matter of time.
People I have known for some time note that I look physically different than I did years ago.  That I look fresh, free, and more aware of myself.  This outward transformation is a reflection of my inward changes.  I am constantly in the process of reinventing myself.
I think this is an important part of reaching for your goals – to always be exploring who you are today, and who you want to be tomorrow.  Who are you?  Who do you want to be?  Are you standing in the way of reaching for your own goals?
How long you can embrace the old, the comfort zone? You must let go in order to be able to create something new.
What is it you want to create? What is it you are holding on to? What is it you need to leave behind in order to continue your reinventing process?