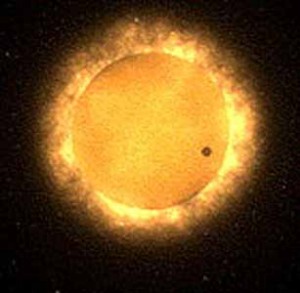 Have you recently heard the term Venus Transition?  This week is an important week from an astrological point of view because of the Venus transition. Right now can be a turning point in your life. Venus is eclipsing the sun today (June 5). Next time this happens is hundreds of years from now in 2117. This eclipse will create change and transition that will impact life on earth in various ways.
Remember before the birth of Science, as a positive approach to knowledge (it was first in the beginning of the 1800 we started to believe only what we could empirical observe and see), astrology was the dominant thought and way of reasoning. Today, as we begin to experience the Venus Transition, I believe that we have evidence from astrological predictions of the future and that we can learn something from this.
Mr Calleman is one of the more well-known pioneers who have made progress in the area where science meets spirituality.  He spent a great deal of time devoting research to the Maya calender. Last year, I attended his lecture entitled "From Chaos a New World is Born." The dilemma has been that since the Maya Calender ends this year 2012, people have been wondering what is going to happen at the end of this year.
Impact of the Venus Transition
Mr. Calleman, who also is a Swedish, is a prominent specialist in this field. Hearing him talking about the important phases during the centuries that the Maya's predicted and linking that to the profound change and events that were taking place on earth during the same period, it becomes difficult to not believe that there is some truth in what astrology can give us.
According to this new time, we are entering a new phase – a phase where the feminine is going to have a greater importance, since we are entering the Goddess of Gemini.
Learn more about what this means for us.  Watch this video from Tom Lescher, and expert on this topic and one of my personal favorites.